Taking the first step to grow your business or idea is simple – buy a URL (website address) that represents you. Make your web project a reality today with CRUUdesign, and you can go anywhere in the future. Follow these steps, and contact CRUU with any questions.
Steps
Click the WEBstore link here or above (or right-click, open in a new tab).
Search for your URL (website address) in the center box.
Choose the TLD (top-level domain) (yourwebsite).com, .net, .org etc.
Add to cart.
Select a WordPress Hosting plan. The $15 plan is ideal, the $30 plan for e-commerce. (See below).
Proceed through the checkout process, select a good password and write it down.
Paying for multiple years secures that price for the term.
Searching and Choosing a URL
Type in your ideal website address and hit [Enter]. If available, buy the .com to keep it simple. If you want to shorten your URL with a descriptive TLD, or Top Level Domain, select one from the Wikipedia list below. Notice I've purchased cruu.DESIGN as my TLD, so people and search engines KNOW my site has something to do with designing things. I create websites, logos, videos, and more. The (.design) TLD removes extra words from the URL, opening up your options.
Wikipedia list of TLDs
Right-click the wikipedia link below, select "Open Link in a New Tab," and browse the available TLDs, the appendage to your URL.
https://en.wikipedia.org/wiki/List_of_Internet_top-level_domains
Buying Multiple TLDs
Some businesses choose to buy up as many of the TLDs for their URL as possible, preventing others from owning the other versions of their site. While unnecessary, it is nice to own the .com if you choose a descriptive TLD and it is available.
Select a WordPress Hosting Plan
Now that the fun part is out of the way, it is time to choose a plan.
Right-click the WEBstore link, select Open in a New Tab to keep this instruction tab open;
Click the Websites tab as pictured below.
Click the WordPress option
The Website Builder may be compelling, but using WordPress is just as easy. Warning, using the Website Builder locks you in to GoDaddy, with no way to back-up your site for hosting in other places. If you decide to utilize a web designer other than CRUUdesign, or want to host your site from another provider, there are few to no options for doing so. If you think we will be best business partners forever, there are some nice options within.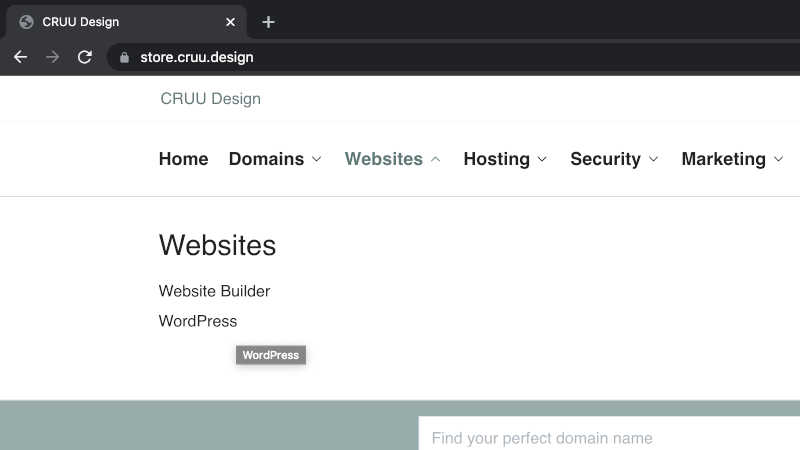 WordPress Plan Breakdown
$10 WordPress Basic – Go LIVE with the SSL (secure socket layer) that encrypts your website traffic between the GoDaddy servers and your reader's browser. Do it!
$15 WordPress Deluxe – Adds the SEO Optimizer (Search Engine Optimization), a nice way to scan your text to make sure your Key Words remain relevant to both your website design and the article or product you are writing about. Sometimes things get too wordy when the keyboard lights up; the SEO Optimizer will help you stay focused.
$17 WordPress Ultimate – Adds the Unlimited malware removal and hack repair product that we all hope we never need. Did you make a hacker angry on the road with your business URL on your car door? They set off easy. I admittedly had a hacker dump over 100,000 files on my server at two different times in 2021. The scans are once per day, and will detect the intrusion, but fixing it is another issue. If you are already going for the Deluxe package, consider the peace of mind provided by the GoDaddy hacker clean up team.
$30 WordPress Ecommerce – Seriously business-oriented! If you are selling products and shipping, consider the ease of having WooCommerce automatically installed, with live shipping rates, appointment scheduling, and NO TRANSACTION FEES! This all adds up in time and money saved to guarantee a clean process for you and your customers. Consider the $15 extra as one hour of pay at an average job, and make the right choice for your business.
$25 WordPress Developer – FIVE websites if you fancy yourself a WebDev. Buy four more URLs and host your personal page, a family page, an information site around your hobbies, or give the gift of a website to a friend in need!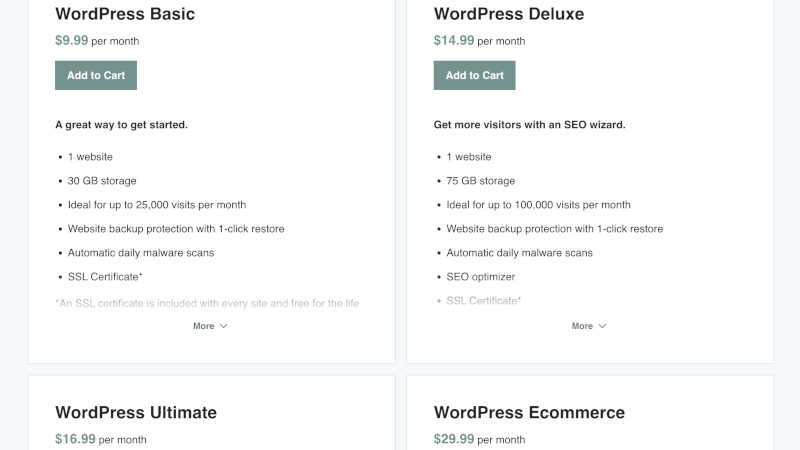 Seal the Website Deal!
You've done it! Now add to the cart, select the term you wish to pay for, and go LIVE on the World Wide Web! Selecting a 12 month plan is highly advised so you avoid any interruptions with monthly billing issues. Purchasing the longer term plan locks your price in for the future. We know inflation and tech gear costs are both on the rise. Buying the URL for 5 years is highly advised; buying hosting with at least a yearly term gives you time to plan for next year and keep taxes simple.
Complete the login process, choosing a secure password that is UNIQUE from anything else you ever used. Never include the URL, birthdays, or any other searchable info within passwords.
Now let's get to building that site! I assure you that WordPress is much easier to design websites with than my Portfolio sites I hand-coded in text editors since 2005. Look for the next article on How To Build and Compose Your WordPress Website, and Contact CRUU with any questions!